In Whatsapp, many people can accidentally send messages to people or groups they do not want. The question of How to See Deleted Messages on WhatsApp has been asked a lot lately. Seeing Deleted Messages on WhatsApp has become one of the most searched topics. There is now a solution to this situation, which used to cause great despair. We will be sharing with you ways to see deleted messages on Whatsapp.
How to See Deleted Messages on WhatsApp? (Android)
Sending the wrong message to the wrong person on Whatsapp is a nightmare. Whatsapp decided to take into account user complaints and take action. No matter how bad it is for the other person, if you are the person receiving the message, you need to have a high will not to worry. We list the ways how you can see the message that the other party sent you and then deleted;
Whatsapp is constantly backing up itself to your phone's memory card or internal memory. If you messed with the settings a little bit, you can even make a backup via your e-mail address.
In this way, when you delete and reinstall your Whatsapp application, the incoming messages will remain in your e-mail or in the memory you recorded, so the message deleted by the other party can be seen by you.
How to See Deleted Messages on WhatsApp (Second Way)
Another way would be to use a second app. We recommend doing good research before using a second app. We think that you do not want to have problems with data privacy, which is one of the biggest problems today.
With second-party software that will store this information and make instant backups instead of Whatsapp, you can instantly back up incoming messages and see the deleted message without deleting your Whatsapp application.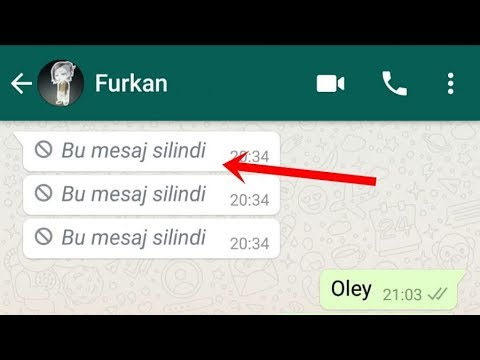 How To Turn On Whatsapp Backup Feature To See Deleted Messages? (Android)
Phones with Android operating system automatically back up chats to memory. To activate this feature;
Enter the Whatsapp application, click on the 3 dots symbol in the upper right and select the settings section.
Then click on Chats and click on the chat backup option at the bottom.
You can enter your Gmail address to back up to your Google account
By choosing the automatic backup option at regular intervals, you can ensure that it takes continuous backups without any hassle.
How to See Deleted Messages on WhatsApp? (iOS)
If you have a device with an iOS operating system, you can view deleted WhatsApp messages. WhatsApp messages are backed up to iCloud on iOS devices. If you haven't backed up, you can do it like this:
Login to Whatsapp.
Go to Settings > Chats > Chat Backup.
Enable automatic backup. There are options available on a daily, weekly or monthly basis, and you can choose the one that suits you best.
How to Recover WhatsApp Deleted Messages on iOS Phones?
If the chat backup we mentioned above is active on your device, it is quite easy to recover deleted messages.
Uninstall the WhatsApp app from your phone.
Reinstall WhatsApp on your device from the App Store.
Enter your phone number and verify.
WhatsApp asks you if you want to restore the chat backup after verification. You can see the deleted messages by selecting the option to restore the chat backup.
Our article, where we answered the question of How to See Deleted Messages on WhatsApp, ends here.
Read More: How to Add Tradingview Bot to Telegram?