The question of how to make Snapchat black is among the questions asked by Snapchat users. Many users use the dark mode to prevent their eyes from getting tired. Now let's look at the answer to the question of how to make Snapchat black.
How to Make Snapchat Black?
Many social media applications have switched to dark mode with updates. Snapchat app also added dark mode to its own. This mode, which does not strain the eyes and consumes less charge, can be activated by anyone who wants. It is not known when it will bring computer support, like Snapchat, Instagram, which only shows a mobile application feature. So, let's take a quick look at the answer to the question of How to make Snapchat black.
Steps to Make Snapchat Black Theme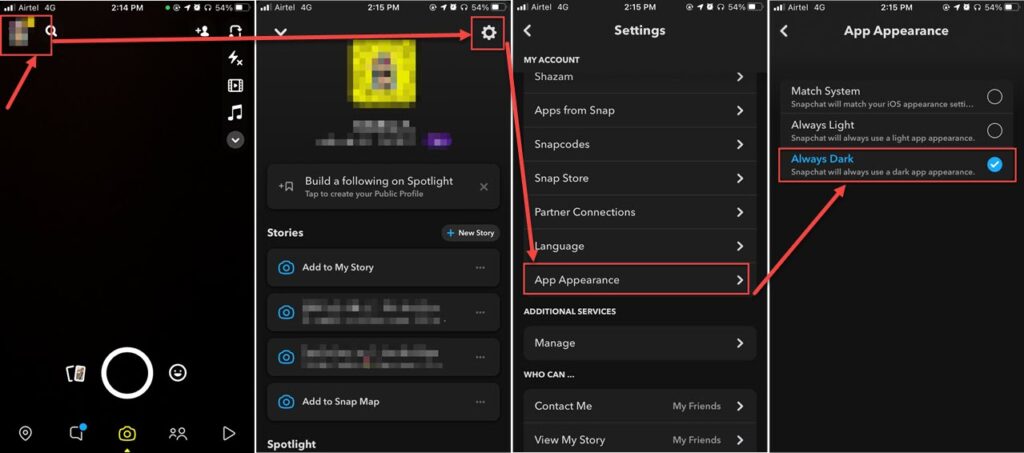 Enter the Snapchat application and click on the profile avatar in the upper left corner of the screen.
On the new screen that opens, click the Settings icon.
Enter Appearance from the drop-down list of settings.
In the view, click on the "Always Dark" option.
After performing these steps, you will have switched to the black (dark) theme. After following these steps, each of your pages will appear black. If you don't like the black theme, you can perform the same steps to revert to the old theme.
See More : Snapchat Streak Geri Getirme İşlemi
Snapchat
It is a video or video instant messaging application for smartphones by its founders Evan Spiegel, Bobby Murphy and Reggie Brown. Users can send text, photos, audio and video to each other. Personally sent files can be viewed by the sender a maximum of 2 times. This free app can run on iOS and Android platforms. The first version of the application was released in September 2011. With 72% of its users being women, the application is mostly used in the United States and England.