After the illogics hype came to another free mint project that gave utility and confidence in the NFT world. Yes, I am talking about Yogies NFT. It has become one of the NFT projects that we are most excited about lately. We were really enchanted by the feature of minting the rest of the collection with the tokens we earned by holding NFTs. We will try to share everything known about this legendary project in our article. So hang tight, Yogies are coming to rock the NFT world.
What is Yogies NFT?
They do things a little differently at Yogies. YogieLand is a calm Yogie-filled virtual realm. They've come to make new friends and share incredible adventures.
YogieLand is fully driven by the community. It's up to you, Yogies, to determine what to construct next. Each Yogie is one-of-a-kind, therefore it has its own creative mind to come up with something amazing.
Yogies Discord is a place where everyone is welcome! By joining Yogies Discord, you can become a Yogie and join them in a new universe. Yogies is more than just an image; it's a way of life. Yogies are absolutely free; all you have to do is get on the list of free mints!
Utility of Holding Yogies NFT
There are only 4,444 Yogies in YogieLand. Only 3,333 people were born into this earth. Our 1,111 buddies have been imprisoned in the vault! They must free them, but they require our assistance!
As a result, they must work to free them. You can put your Yogie to work for you and get paid for it! Every day, each Yogie will earn ten $GEMIES. You can save either a regular Yogie or a VIY Yogie (Very Important Yogie).
Of course, each has a price! You'll have to trade your $GEMIES in order to save a Yogie! Do you want to save 100 $GEMIES for a regular Yogie or 700 $GEMIES for a VIY Yogie? Only 111 VIY Yogies and 1000 regular Yogies exist. They must extract them from the vault as soon as possible! You will have complete control over the Yogies you possess!
Why Free Mint?
This collection is all about love and support, and they feel that everyone deserves to be a Yogie. To demonstrate to the rest of the world that you can establish a brand by assisting one another.
Many individuals want to start buying NFTs, but they don't have the means to invest in such a worthwhile initiative. That is why we started Yogies, which is completely free for anyone who helps Yogies and contributes to the community.
The contract will be made public and confirmed soon, so you can double-check the code for safety! They've also had numerous experienced developers do audits.
Yogies Mint Information
Mint Date: May 7th
Mint Price: Free Mint!
Supply: 4444
Blockchain: ETH
Invite 5 Friends and get Free Mint
It is very easy to get free mint rights from Yogies NFT project. All you have to do is complete the steps below. I think you'd better hurry up. However, earning free mint does not give you 100% mint rights.
Follow their Twitter Account
Like, Retweet & Tag 3 friends on their pinned tweet
Invite 5 friends to the discord family
What is the best way to receive a GUARANTEED MINT?
Complete all of the preceding stages.
Take part in community activities
Give back to the community
They want to make certain that everyone on this list is deserving of this honor. That is why our community managers will be quite active in ensuring that they select the best candidates.
Official Links
Play to Earn Game by Yogies!
What will be available in the game?
Mansions
Flying Cars
Security Pets
Attack other holders
$Gemies
Starting with Mansions, what's the use case?
You can only stake ONE Yogie per wallet; however, if you purchase a Mansion for $Gemies, you can stake up to TEN Yogies inside your Mansion. You can stake 20 Yogies by purchasing two Mansions. Purchasing a mansion will also keep you safe from attacks by homeless Yogies.
What are Flying Cars? And why would I buy one?
This is one of my favorite features of the game: based on how many Flying Cars you have, your DAILY YIELD gets multiplied.
Owner has ONE Car gets a Daily Yield BOOST of 20%
Owner has TWO Cars gets a Daily Yield BOOST of 35%
Owner has THREE Car gets a Daily Yield BOOST of 50%
Security Pets sounds lovely but are they really worth it?
These Pets will be one of your Yogie Collection's most prized possessions. These Security Pets guard against other holders attacking your DAILY YIELD. These can also be purchased using $Gemies!
Once they start releasing Game Updates, there will be more tools for our Security Pets.
Can I attack other holders?
YES! You can attack one of the holders of your choice once every 24 hours. See who has the highest Daily Yield with NO Security pets by looking at the scoreboard. Please keep in mind that you can only assault people who have NO Security pets.
Each holder who does not have any security pets can be attacked; the length of time it takes for your attack to cool down depends on the damage. A one-hour cooldown is imposed for every 1% stolen. Every 24 hours, each holder can only assault one holder of their choice.
Attacks do damage equal to 5% to 25% of your target's Daily Yield.
Yogies who are homeless are unable to attack Yogies who have a mansion.
Yogies with a mansion can attack anyone except Security Pet owners.
What are $Gemies?
The token $Gemies will be used to purchase everything in their item store. Each purchase made in their item store will be split in two ways. 90% of the coins will be burnt, with 10% going to a public community wallet.
Please note that $Gemies is NOT available right now; please be aware of scams.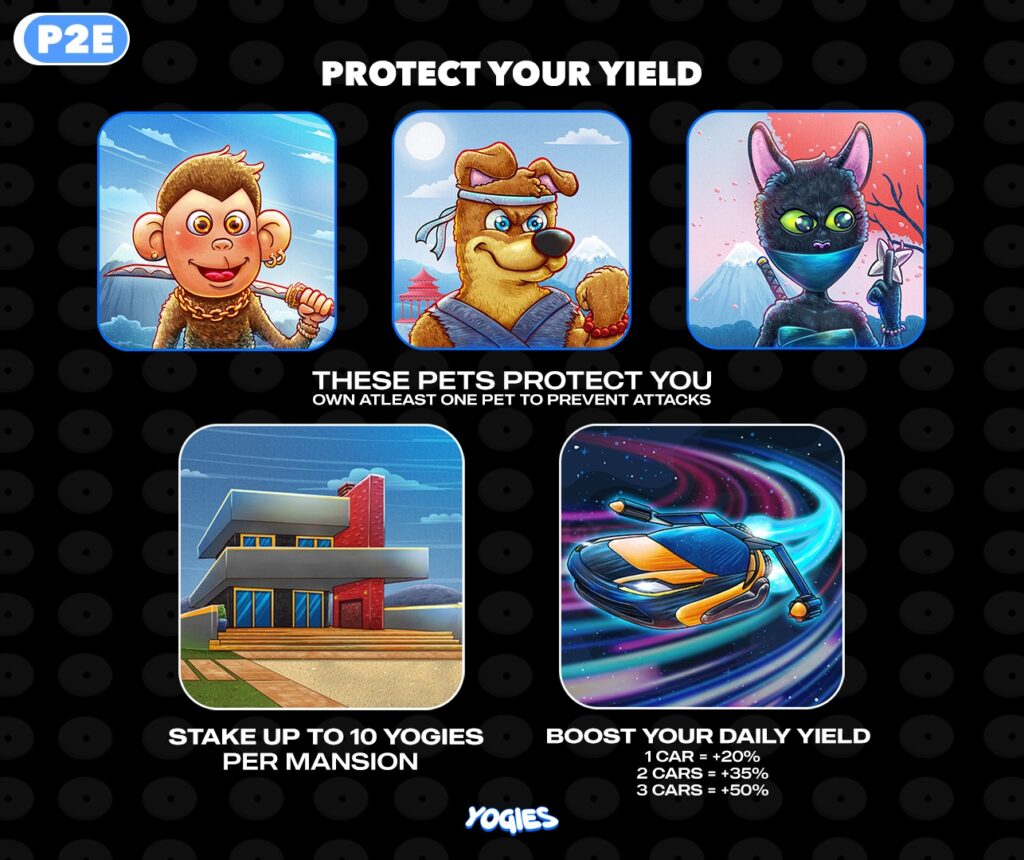 What kind of Yogies are available?
Genesis Yogies
Very Important Yogies
Vault Normal Yogies
Normal Yogies
These are the Daily Yield benefits of each Yogie.
Genesis Yogies earn 45 $GEMIES Daily & have a 25% discount in their items store on Mansions, Flying Cars & Security Pets.
Very Important Yogies earn 30 $GEMIES Daily & have a 25% discount in their items store on Security Pets.
Vault Normal Yogies earn 15 $GEMIES Daily.
Normal Yogies earn 10 $GEMIES Daily.
How can I get a Genesis Yogie?
One of the ten Genesis Yogies has already been auctioned off for charity. The official collection can be seen on the official collection page. In the near future, they will auction off NINE more.
How can I get a Very Important Yogie & Vault Normal Yogie?
You can get these unique Yogies by using your daily yield. These Yogies will have special abilities that aren't found in the ordinary collection. $Gemies can be used to acquire any of these Yogies.
Rarity of Yogies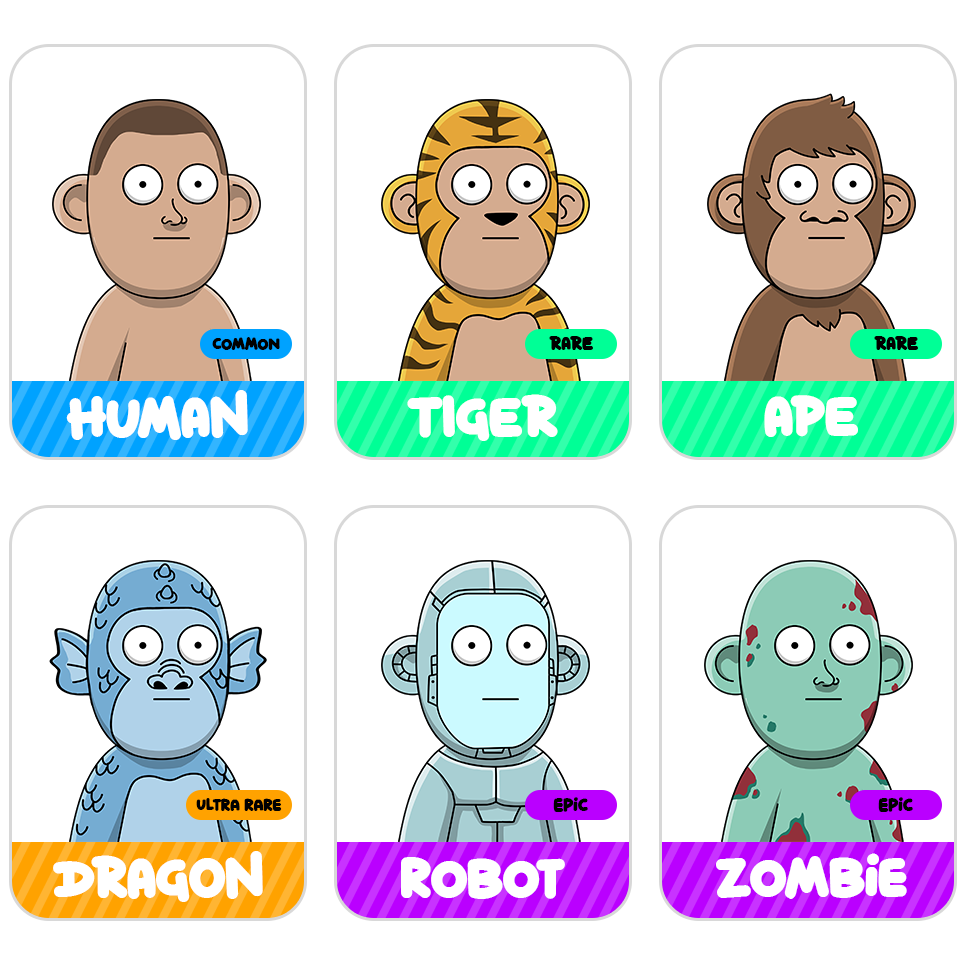 Sneak Peeks