Imaginary Ones is a wonderful 3D painting with an initial drop of 8888 unique NFTs on the Ethereum network. The initiative thinks that art may be used to convey love, optimism, and creativity. Imaginary Ones NFT has very huge potantial. 1 week after the launch of Discord, it reached more than 240k followers
Cmttat is a well-known Singaporean artist. Imaginary Ones' staff has over a decade of expertise working with children. Nike, Apple, Samsung, Heineken, Spotify, L'Oreal, and others are among their clientele. In the begining phase of NFT world, Imaginary Ones will definately become one of the main NFT communities.
Information About Imaginary Ones NFT
Unlike other types of artwork NFTs, Imaginary Ones are GIF pictures of figures with balloons in place of their bodies. Every figure wears shoes and moves his left hand, which is usually clutching an umbrella or a walking stick.
The Imaginary Ones figures capture the audience's attention because they are incredibly adorable and not horrifying; their bodies are translucent and covered with little balloons.
All of the Imaginary Ones characters are incredibly fashionable, with various qualities such as holding a music layer, wearing a headset, sunglasses, hats, and so on, presenting a few popular cartoon characters.
Imaginary Values
Good Vibes Only

Be someone you love to hang out with.

Dream Together

"A dream you dream alone is only a dream. A dream you dream together is reality." John Lennon.

Smiling as a Child

The most contagious grin is a genuine one.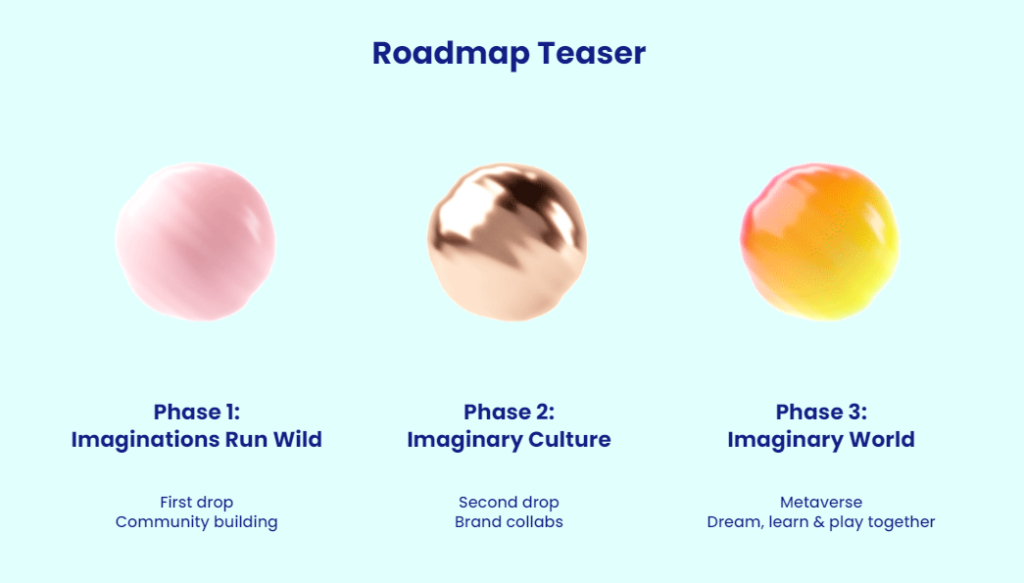 Imaginary Team
Cmttat
Clement
Co-founder of Imaginary Ones,
OFFSET & OFFEO
Creator
Gentle Whale
David
Co-founder of Imaginary Ones,
OFFSET & OFFEO
Strategist
Nine Foot Table
Gregory
Managing Partner
Imaginary Ones, OFFSET & OFFEO
Artist & Head of Partnerships
Kbby
Caleb
Operations Director
Imaginary Ones, OFFSET & OFFEO
Head of Community
Mighty Mouse
Jerome
Chief Technology Officer
Imaginary Ones, OFFSET & OFFEO
Technology/Contracts