Cool Pigz is one of the strongest NFT projects that has managed to attract everyone's attention lately. The HYPE is really insane and the team of the project is very experienced and doxxed people in the NFT world. Expectations from the project, which continues to grow as closed Discord, are really high. We will share with you all the information we can access about the Cool Pigz Project, which we are looking forward to on the Mint day, in our article.
On the Ethereum blockchain, Cool Pigz is a really cute NFT collection of 7777 oinky-cool pigz. It is a community-focused NFT collection that is the foundation of an interactive and engaging combat-based p2e game built on NFT Worlds, in addition to being very cute. The pigz also provide their owners with numerous benefits, such as breeding, DAO establishment, and so forth. Please continue reading to learn more about who they are and what they do!
Aim and Vision
Cool Pigz is a community-focused NFT project that is both enjoyable and interactive. Every cool pig is driven and confident enough to succeed on Web3. They include an incredibly cute pfp, the opportunity to save a considerable amount of gas with the ERC-721A-P, the potential to win $WRLD tokens through immersive and demanding in-game activities, unique access to breeding Cooler Pigz, and much more. Aside from that, the project's team is well-known on social media and has years of expertise in their fields; you can learn more about them by scrolling down.
Art of Cool Pigz
All of the Pigz are hand-drawn with zeal. They're all fantastic, but some are more so than others. A piggy's rarity is determined by how flashy its features are! As seen in the rarity chart below, there are pigz with diverse backgrounds; each background has its own proportion, just as the qualities.
Mint Cool Pigz Pay Low Gas Fee!
ERC-721A is a game-changing implementation that allows you to save a lot of gas by minting many NFTs in a single transaction. When numerous NFTs are minted, this standard is quite helpful, but the gas price remains relatively high for those who only wish to mint one.
One of their smart contract developers came up with a simple solution to this problem, and he was able to lower the amount of gas required for one mint. They teamed with renowned security specialists and conducted multiple tests to ensure that everything was functioning properly, leading to the creation of ERC-721A-P, the most gas-efficient smart contract available.
Official Links
Sneak Pigz 🙂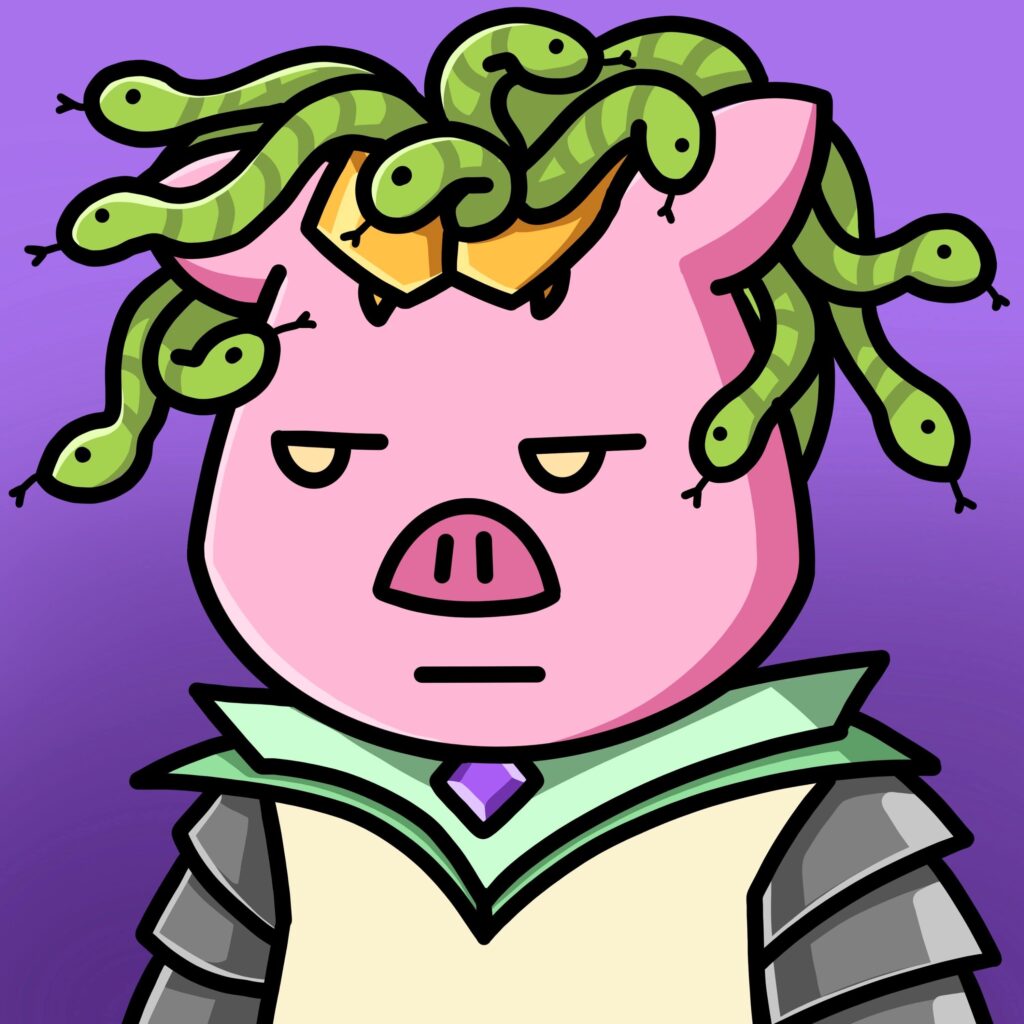 Roadmap
Thanks to ERC-721A-P, anyone having an OG/Whitelist role will be able to mint with the lowest gas rates on the earth.
Completely sold out
The Roadmap 1.0 has been enabled.
Launch of the P2E Game
The P2E Minecraft world is finished and will be released ahead of the mint.
By playing in a variety of highly entertaining minigames, players will be able to collect $WRLD tokens. (https://docs.coolpigz.io/ Detailed Whitepaper)
Collaborations
Collaborations with your other favorite collections, which will be picked by their community, will be super fun and cute.
Giveaway!
They'll be giving away 5 ETH from their community wallet to their holders on a regular basis, starting shortly after the introduction of their collection.
Fight Hunger
They will donate 5 ETH to help stranded animals.
A portion of this will be donated to local animal shelters, while the remainder will be donated to international animal rights organizations chosen by their community.
DAO
For the community's long-term viability, a DAO will be developed.
DAO-ization will begin as they approach a solid environment and mindset.
Breeding Cooler Pigz
Cooler Pigz will be able to be bred by anyone who has two NFTs.
Starting with the introduction of their game, these pigz will deliver a variety of useful features.
Oinky Merch!
They will debut their stuff to their customers and select future merchandise jointly; once again, their avocados will choose every detail.

Cool Pigz Team
PLATEN
UGC90
HERZLICH
PHOENIXRENDERS
FLIGHTLESS BIRD
THECTOKILLER
TooDeep