Nowadays, YOOMOOTA is very popular in NFT World. The day the project will debut in the NFT world is eagerly awaited. "What is YOOMOOTA NFT" question is asked widely. Because people's expectations are increasing day by day. There are many reasons behind this. In our article, we will question what makes Yoomoota NFT so successful and popular, and we will try to share with you what is known about Yoomoota NFT.
YOOMOOTA is a mirror of a human being's inner world and natural structure that materializes into a parallel universe with its own planets and populations. The people of YOOMOOTA exhibit human emotions and personify human physiology while transmitting modern society's reality and challenges.
Curiosity is one of the Yoomoota universe's initial animals. It personifies an intrinsic trait of humanity — an insatiable drive to comprehend all that exists, which is unconscious and devoid of logic. Representatives of this genus have a core goal: to investigate the Yoomoota cosmos, including planets, inhabitants, activities, and artifacts. This is their purpose and reason for being, and they will never lose their significance.
Unique Features of Yoomoota
Curiosity is a humanoid with a humanoid physique. Instead of a head, a sphere of information is placed on top. Curiosity discovers Yoomoota, which fills the sphere. Curiosity has eyes on the sphere of knowledge, which it uses to gather photographs of worlds and species it has observed. Curiosity gains several traits as she travels across the cosmos, including clothing, accessories, and other benefits. Curiosity can maneuver and investigate the most remote portions of several planets with their assistance. The helmet is the rarest and most important characteristic; it aids in the restoration of unique information about Yoomoota and grants its owner abilities.

The helmet is the most valuable and rarest attribute. Curiosities desire to collect all of the unique helmets spread throughout the universe in order to restore unique knowledge about Yoomoota. Helmets bestow superpowers to those who wear them.
Let us begin their hunt for the most valuable traits concealed on numerous planets of Yoomoota now that you have entered the world of Yoomoota, defined your personality, and chosen the Curiosity that best suits you.
Benefits of Holding Yoomoota NFT
YOOMOOTA NFT
WL for the second YOOMOOTA NFT collection and WAGMI Team collections with future artists for all NFT holders
x150 3D YOOMOOTA toys raffle for mini-game winners
x300 AR prints for mini-game winners
x500 pins raffle for mini-game winners
YOOMOOTA GAME
Free Genesis Character Airdrop for all NFT holders
Free 3x Genesis Character Airdrop for 3+ NFT holders
$YOO Token Airdrop for 5+ NFT holders
Free Genesis Plot Airdrop for 8+ NFT holders
WAGMI GAME GUILD
$WAGMI Token Airdrop for all NFT holders
3x $WAGMI Token Airdrop for 5+ NFT holders
Yoomoota Economics
The YOOMOOTA NFT community will be rewarded for their commitment as part of a robust, diverse economy that is unrelated to NFT market activity. A part of the proceeds from the NFT sales will be used to acquire and stake AXS tokens with a 77 percent APR, creating an additional revenue stream for the YOOMOOTA NFT team and community. This will be complemented by secondary sales of YOOMOOTA NFTs, the proceeds of which will provide a 5% royalty for the team and community.

YOOMOOTA NFTS will be available for free

They'll sweep the floor frequently and distribute NFTs to strong holders, which will assist raise the collection's price and create a healthy economy for the collection.

BUY ARTIST MERCHANDISE

This is a once-in-a-lifetime opportunity to become a true collector.

WHITELIST FOR FUTURE WAGMI TEAM ARTIST COLLABORATIONS

Following the successful sale of the YOOMOOTA collection, you will be considered for future collections with top artists.

PARTNER PROJECTS WHITELIST AND NFTS

Access to the most promising NFTs collections is simple.
Official Links
Sneak Peeks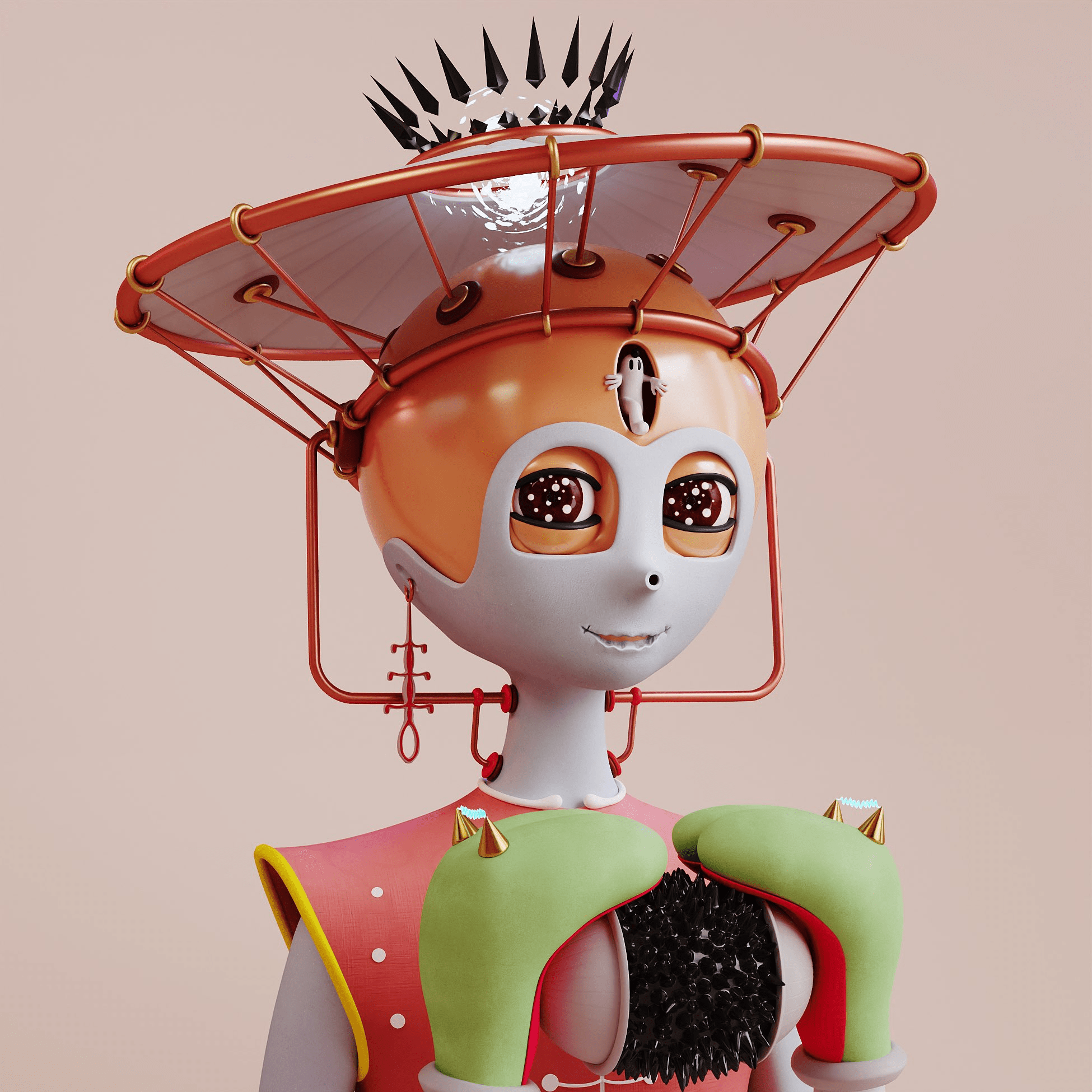 Yoomoota Roadmap
1st Phase
Selecting Main Character

YOOMOOTA is home to a wide range of worlds and species. Curiosity, the explorer and guide of the YOOMOOTA metaverse, was chosen as their main character.

Balanced Traits and Attributes

Their in-house math genius calculated the distribution of features and attributes among 7,777 unique NFTs, which was precisely balanced. As a result, the collection contains nine qualities and more than 250 features, allowing each NFT to be unique and provide varying degrees of rarity.

Website and Development

The animation website is being created by five experts in collaboration with a prominent studio designer and will include all project information.

Development of 7777 NFTs

The collection was put together by Taras and a team of seven high-end professionals to guarantee that every detail is as accurate as possible in the 3D format and that it converts well to a maximum 4k resolution.

Smart Contract Development

The smart contracts were built by two Ethereum developers using the new ERC-721A format (thanks to the Azuki team for this!) so that you can save as much money as possible at the mint stage.
2nd Phase
Media Publications

They've got a lot to say about the artist and the project, and they're working on it right now! Taras' interviews will soon be available via a variety of media outlets.

Promotion and Partnership

By organising prizes, gaining the attention of key influencers in the NFT area, and enticing projects for partnership, they are kicking off an active marketing phase.

Community Building

It's simple to rally people around a good project…even simpler than adding bots, so the team is concentrating on attracting the largest organic audience possible who supports their mission. It won't be long before there's a lot of buzz!
3rd Phase
Public Sale!

The team hopes to hold a sale in the spring of 2022. The format will be announced as soon as possible. You have the possibility to join the whitelist right now by participating in their Discord activities.

Economic Flywheel Model

The WAGMI Team enlisted the help of an expert to develop and implement the notion of a "economic flywheel," which rewards members for their loyalty while also supporting the collection's pricing.

Conducting a Mini Game

While immersing themselves more completely in the impending YOOMOOTA Metaverse in spring 2022, all YOOMOOTA NFTs holders will be able to play in a mini-game for Taras items, future YOOMOOTA NFTs, and special rewards!

Development of Second Collection

YOOMOOTA Genesis NFT holders will receive WL from WAGMI Team in conjunction with other artists for the second collection and following NFT collections.

Art Exhibitions

Taras intends to present the YOOMOOTA project and create an animation based on the YOOMOOTA metaverse as part of his in-life artistic activity in 2022.
4th Phase
Collaboration with Artists

The WAGMI Team hopes to keep bringing high-profile artists into the NFT area by assisting them in the creation of incredible projects. All future WAGMI Team collaborations with these innovative artists will automatically award WL to YOOMOOTA holders.

Yoomoota Game Development

Once public sales are complete, the WAGMI Team will deploy its p2e field knowledge and begin planning full game production. Depending on the number of YOOMOOTA NFTs held and their rarity, holders will receive airdrops of $YOO tokens, playable characters, and lands.

Wagmi Game&Breeding Guild Creation

The WAGMI team wants to launch the first CIS player-to-player guild! The team is already leasing game accounts and breeding in Axie Infinity and Pegaxy, has a large Star Atlas fleet, and is always looking for new p2e games to invest in. Depending on the number and rarity of their NFTs, holders of YOOMOOTA NFTs will receive an airdrop of $WAGMI tokens, allowing them to invest in the p2e expansion without having to play.
Yoomota in Press
Yoomoota Team