Roblox Starving Artists is the most well-known game based on the concept of giving cash to other players. So What is a Shirt ID in Roblox Starving Artist question is very widespread because of that. You can make your own pixel artworks and sell them to other players in the game. These players can then use Robux to pay for your artwork. This will aid Roblox in becoming a platform for pixel painters to generate money. We'll show you how to make, find, and obtain a Shirt ID in Roblox Starving Artists today.
How to Get Shirt ID in Roblox Starving Artist
Here's how to get Roblox Starving Artists Shirt ID and utilize it:
To access the Roblox Shirt PNG Template, click here.
It's free to download, so go ahead and make your shirt.
Open the Roblox Create page now.
From the left tab, choose "Shirts" or "T-Shirts."
Now select "Choose File" from the drop-down menu.
Give it a catchy name.
Now select "Upload" from the drop-down menu.
When you're finished, click the triple dotted button.
Each garment will have its own set of buttons.
You'll get a drop-down menu as a result of this.
Choose "Configure" from the drop-down menu.
Now the new Configure menu will appear.
Select "Sales" from the menu on the left.
Toggle the "Item for Sale" toggle now.
Make sure it's turned on.
Go to the Roblox Store now.
Look for the clothing.
Alternatively, use the "your creations" option to locate it.
Check the URL in your web browser now.
The number after "roblox.com/catalog/" is your Shirt ID.
Consider the following number:
Enter Starving Artists with this ID.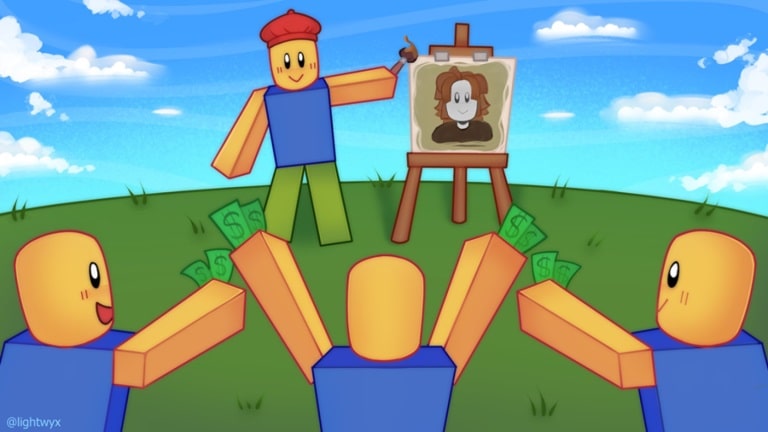 What is a Shirt ID in Roblox Starving Artist
If you are asking What is a Shirt ID in Roblox Starving Artist? You should look at our newest article about Starving Artists: Roblox Starving Artists Codes [April 2022]
Selling Shirts and T-Shirts in Roblox will cost you 10 Robux. It is, however, free to upload T-Shirts. Shirts, on the other hand, will continue to cost Robux to upload. And if you sell the item, you'll get a 60% revenue split, while the developers of "Starving Artists" will get a 10% revenue share. The remainder will go to Roblox.
My Creations Lab
Make sure to pick the three dots next to the product name before closing the My Creations tab. Select Configure from there, and then enter the Sales section on the left side of the screen. You will be able to change the T-price Shirt's here. You'll need to make sure the green slider is checked in order to sell it.
Simply produce a piece, go to one of your Canvases, and select the artwork after claiming a booth in Starving Artists. When prompted, paste the Shirt ID from the Roblox browser's URL. You will be able to sell your product after choosing a price. Here is the end of What is a Shirt ID in Roblox Starving Artist article.