Our Roblox War Tycoon codes list contains the most recent, effective, and working codes that can be used for a variety of rewards. If you want to participate in all features of War Tycoon Game, you'll need as many gun as possible, so keep checking back with this updated list!
War is awful, but with our list of War Tycoon cheats, you may slightly ease your suffering on the front lines in Roblox's War Tycoon. As you amass more forces, vehicles, and weaponry, the game enables you to create your own army. Although you may always request peace, it can be entertaining to watch imaginary things explode.
What is Roblox War Tycoon?
Half of Roblox War Tycoon is an FPS, half is a tycoon game. Build up your fortifications to help defend your base after installing your oil drills to provide a regular income. Get weapons to arm yourself, then go out and seize strategic bases and resources. You can upgrade your arsenal to include drones and vehicles as you earn and capture more.
We'll keep you informed about new Roblox War Tycoon codes as they become available. You should utilize these as quickly as possible since you never know when they'll run out! These War Tycoon codes were tested on the day this page was updated, so if you discover one that is no longer valid, please let us know by email in the contact section so we can update the article.
Roblox War Tycoon Codes (Working)
You can find all working Roblox War Tycoon Codes below. Hurry up to use these codes while they are working.
Social—Use this code and get 100k Cash and 10 minutes of 2x cash boost
250K – Use this code and get 25k cash, double cash for 25 minutes, and a gamepass gun
BlueBird – Use this code and get free gun
Hooray50K – Use this code and get 50k cash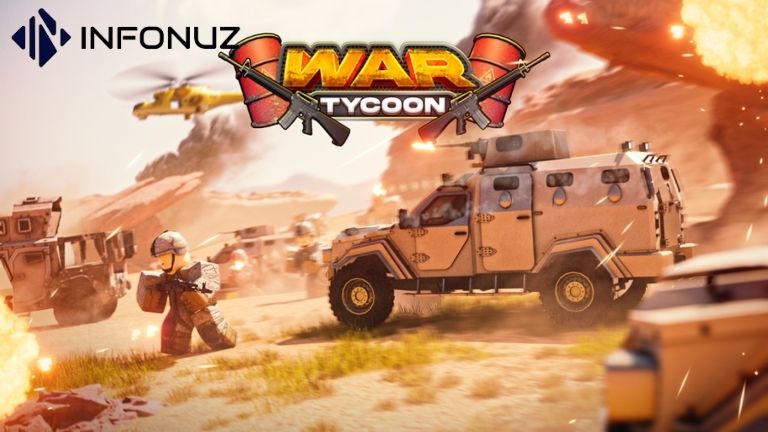 War Tycoon Roblox Codes (Expired)
The codes below are expired. So, you are no longer able to use them in the game.
200K—Use this code and get 20-minute two-times Cash boost, 200k Cash, and a one-life Barrett M82 Gamepass Gun
50M—Use this code and get 50 minutes of 2x Cash
Weekend—Use this code and get 250k in-game cash, 30 minutes of two-times Cash, and a FAL Heavy
TweetUp—Use this code and get free Cash
GoinUp—Use this code and get free Cash
BigBucks—Use this code and get $100,000 Cash
Stonks—Use this code and get 2x Cash for 10 min
How to Use Roblox War Tycoon Codes
It's simple to use Roblox codes for free gifts in War Tycoon.
Simply open the Roblox Game and press M to access the menu.
Each functional code may be entered into a textbox in the codes section. (Or from Twitter logo)
To get your prize, press the Enter key on your keyboard.
If the code is not working, it means the code is expired.
That's all the information we can give about War Tycoon. I hope these codes will be useful to you in games. If you want, you can take a look at our Roblox Drift Paradise Codes and Roblox Treasure Hunt Islands Codes articles and set sail for new games.