Our Roblox Monkey Tycoon codes list contains the most recent, effective, and working codes that can be used for a variety of rewards. If you want to participate in all features of Monkey Tycoon Game, you'll need as many rewards as possible, so keep checking back with this updated list!
Team Blue Monkey created the game Roblox Monkey Tycoon for the platform. You'll be creating a massive tower of vibrant monkeys in this game. They'll throw bananas at you, and you can use those bananas to get a bigger tower. Reach for the stars by combining monkeys into better levels to produce more bananas!
What is Roblox Monkey Tycoon?
Roblox Monkey Tycoon was developed for the system by Team Blue Monkey. In this game, you'll be building a huge tower out of colorful monkeys. You can utilize the bananas they toss at you to build a bigger tower. To create more bananas, combine monkeys into better levels and go for the stars!
We'll keep you informed about new Roblox Monkey Tycoon codes as they become available. You should utilize these as quickly as possible since you never know when they'll run out! These Monkey Tycoon codes were tested on the day this page was updated, so if you discover one that is no longer valid, please let us know by email in the contact section so we can update the article.
Roblox Monkey Tycoon Codes (Working)
You can find all working Roblox Monkey Tycoon Codes below. Hurry up to use these codes while they are working.
bugfixing – Get +5 sacrifices (New)
Thanks – Get free monkeys
Ape – Get free monkeys
Bakery – Get free monkeys
Plantain – Get free monkeys
Tarantula – Get free monkeys
September – Get free monkeys
Medusa – Get free monkeys
PlayStreetWars – Get 2 Sacrifices (Transfers you to a different game)
boogers – Get 4.8 million monkeys (Must interact with the ghost at night near the leaderboards to redeem)
bottle – Get 3 Sacrifices
statues – Get 4.8m Monkeys (Must interact with each of the 5 statues in the outskirts of the map to redeem)
asteroid – Get 4 Sacrifices
rollthedice – Get a random amount of monkeys
hot – Redeem to be set on fire
142496 – Get Free Monkey
freeslimemonkey – Get AmongUs (THERE'S A JUMP SCARE WHEN YOU REDEEM THIS!)
Nothing – Get 1 Million Monkeys
Enter this code in the following order for the reward:

Cipher
RIGVSQERGIV
MonkeyTycoonForever

balls – Get Balls
nirvana – Get 2 Nukes
MichaelsaJoestar – Get 10,000 Monkeys
ELSEP03M – Get 10,000 Monkeys
Murder – Get a sword to kill other players with temporarily
IHopeNothingBadHappens – Get instantly kill your character
GOOBLESTHEALIEN – Get a free reward
BOOSTMEUP – Get Tier 3 Coin Multiplier
monkey backwards—Use and get over 350k Monkeys
RADIATION—Use and get 177,147 Monkeys
LotsOfMonkeys – Use and get free Monkeys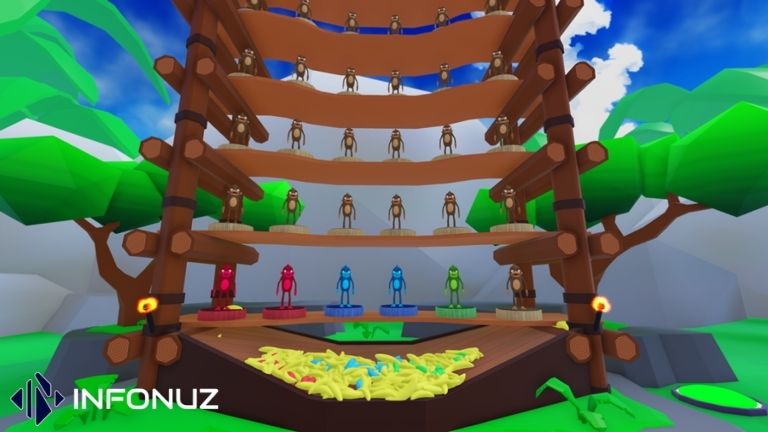 Monkey Tycoon Roblox Codes (Expired)
The codes below are expired. So, you are no longer able to use them in the game.
How to Use Roblox Monkey Tycoon Codes
It's simple to use Roblox codes for free gifts in Monkey Tycoon.
Simply open the Roblox Game and press M to access the menu.
Each functional code may be entered into a textbox in the codes section. (Or from Twitter logo)
To get your prize, press the Enter key on your keyboard.
If the code is not working, it means the code is expired.
That's all the information we can give about Monkey Tycoon. I hope these codes will be useful to you in games. If you want, you can take a look at our Roblox Anime Souls Simulator Codes and Roblox Chaotic Bean Simulator Codes articles and set sail for new games.