Our Roblox FNF codes list contains the most recent, effective, and working codes that can be used for a variety of rewards. If you want to participate in all features of FNF Game, you'll need as many rewards as possible, so keep checking back with this updated list!
Numerous goods and cost-free gifts can be unlocked with the Funky Friday codes listed below. These codes offer it all, from additional points to special, code-only mics! Additionally, keep coming back to this post if you're looking for even more freebies because we update this list as soon as new codes are released.
What is Roblox FNF?
Have you have what it takes to follow the beat? Funky Friday is a test of your abilities! Take to the mike, practice your finest freestyle, and score as many points as you can against your rivals! Funky Friday will test your hand-eye coordination and will challenge you whether you like to compete against strangers or your friends. Why not enter a few codes? You might want some incentives to celebrate finishing a challenging face-off.
We'll keep you informed about new Roblox FNF codes as they become available. You should utilize these as quickly as possible since you never know when they'll run out! These FNF codes were tested on the day this page was updated, so if you discover one that is no longer valid, please let us know by email in the contact section so we can update the article.
Roblox FNF Codes (Working)
You can find all working Roblox FNF Codes below. Hurry up to use these codes while they are working.
funkymillion – Use and Get Lyte Lantern Microphone(New)
1yearscoop – Use and Get One Year Scoop Microphone
1yearfunky – Use and Get 1,000 points
2v2!! – Use and Get Sakuroma Microphone
SPOOKYMIC—Use and Get the Spooky Time Microphone
TAMBRUSHISBACK—Use and Get FNF Speaker
funkymillion—Use and Get the Lyte Lantern mic
1YEARSCOOP—Use and Get the One Year Scoop Microphone
1YEARFUNKY—Use and Get 1k Points
2v2!!—Use and Get Sakuroma Microphone
CHEEZEDTOMEETYOU—Use and Get Cheese Microphone
1BILCHEESE—Use and Get Funky Cheese Animation
9keyishere—Use and Get 500 Points
MILLIONLIKES—Use and Get Radio Emote
100kactive—Use and Get 250 Points
Halfbillion—Use and Get 500 Points
smashthatlikebutton—Use and Get 300 Points
250M—Use and Get 250 Points
1MILFAVS—Use and Get the Boombox Animation
100M—Redeem code for 500 Points
19DOLLAR—Redeem code for the RickRoll animation
XMAS2021—Use and Get Candy Cane Animation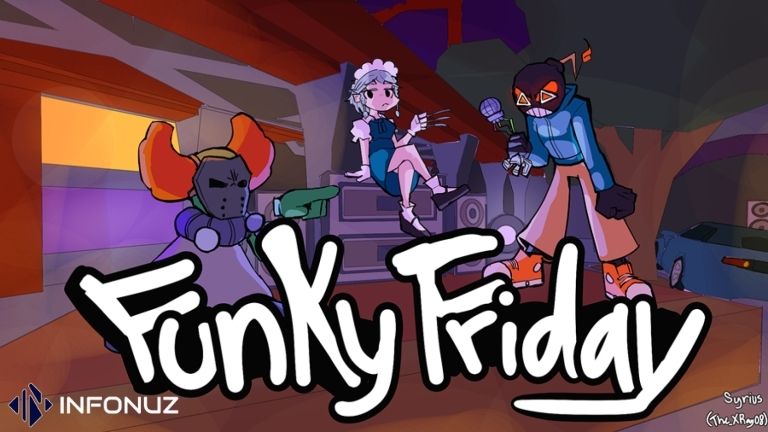 FNF Roblox Codes (Expired)
The codes below are expired. So, you are no longer able to use them in the game.
How to Use Roblox FNF Codes
It's simple to use Roblox codes for free gifts in FNF.
Simply open the Roblox Game and press M to access the menu.
Each functional code may be entered into a textbox in the codes section. (Or from Twitter logo)
To get your prize, press the Enter key on your keyboard.
If the code is not working, it means the code is expired.
That's all the information we can give about FNF. I hope these codes will be useful to you in games. If you want, you can take a look at our Roblox Bleach Era Codes and Roblox AOPG Code articles and set sail for new games.