Our Roblox Dig to China codes list contains the most recent, effective, and working codes that can be used for a variety of rewards. If you want to participate in all features of Dig to China Game, you'll need as many rewards as possible, so keep checking back with this updated list!
Do you believe you can dig to China? It is your chance to participate in this thrilling Roblox experience! Set up your gangs in the town square, then use explosives to destroy the ground. Upgrade to stronger explosives as you progress to create larger and larger holes in the earth's crust until you ultimately emerge in China! To earn additional explosives, you can take on challenges. With the money you earn, you can even improve your home!
What is Roblox Dig to China?
You can use the free bombs you receive from Dig to China codes to perform explosions while you dig, as well as to do objectives and enhance your housing, which will advance your quest for rebirth and help you progress up the leaderboards.
We'll keep you informed about new Roblox Dig to China codes as they become available. You should utilize these as quickly as possible since you never know when they'll run out! These Dig to China codes were tested on the day this page was updated, so if you discover one that is no longer valid, please let us know by email in the contact section so we can update the article.
Roblox Dig to China Codes (Working)
You can find all working Roblox Dig to China Codes below. Hurry up to use these codes while they are working.
RubyRocks:3—Get Special Bomb (New)
P2W—Get 5000 Points (New)
BombsAreFun—Get 1000 Points
Explosions12—Get 500 Bombs
Bombs4Life—Get 1500 Bombs
Bx42L3—Get 3000 Bombs
ExplodingTime—Get 5000 Points
ExplodingHeadEmoji—Get 1000 Bombs
for0.1secondsuponjoiningyouwillseeasecretmessage—Get 6969 Bombs
JoinTheDiscord—Get 9999 Points
RubyRocks—Get Special Bomb
P2W—Get 5000 Points
J8g43SL—Get 5000 Points
Thisisacode—Get 9999 Bombs
BombsAway64—Get 1k Bombs
thisisacode—Get 10k Bombs
CodesUpdate—Get 1,000 Bombs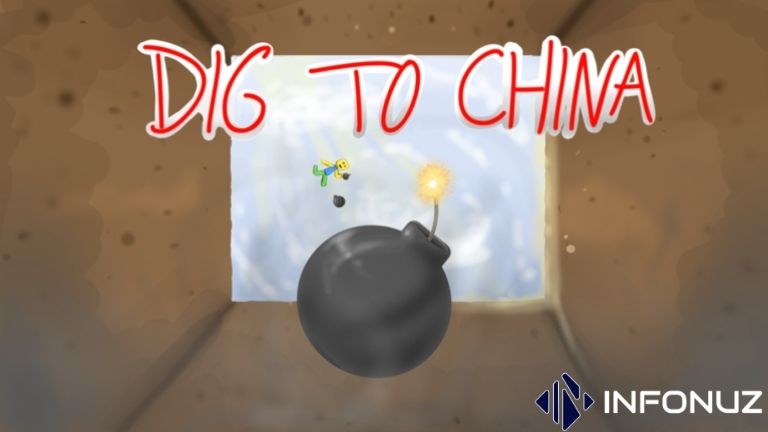 Dig to China Roblox Codes (Expired)
The codes below are expired. So, you are no longer able to use them in the game.
How to Use Roblox Dig to China Codes
It's simple to use Roblox codes for free gifts in Dig to China.
Simply open the Roblox Game and press M to access the menu.
Each functional code may be entered into a textbox in the codes section. (Or from Twitter logo)
To get your prize, press the Enter key on your keyboard.
If the code is not working, it means the code is expired.
That's all the information we can give about Dig to China. I hope these codes will be useful to you in games. If you want, you can take a look at our Roblox Bow Simulator Codes and Roblox Stand Proud Codes articles and set sail for new games.