Our Roblox Airport Tycoon codes list contains the most recent, effective, and working codes that can be used for a variety of rewards. If you want to participate in all features of Airport Tycoon Game, you'll need as much cash as possible, so keep checking back with this updated list!
One of the well-known games on Roblox is called Airport Tycoon, in which you build an airport and run it like a business. Here, you'll need to spend money on new aircraft as well as on runways, snack bars, and bag drop areas. You can expand your airport and visit more islands by upgrading your equipment and facilities and generating more revenue.
What is Roblox Airport Tycoon?
In Airport Tycoon, your goal is to build the largest and most impressive airport possible. Begin with nothing and continually generate passive money to invest in labor, buildings, and upgrades. You'll eventually construct an airport that you love! Then you can explore the seas to find islands, fly in the airplanes you buy, and more!
We'll keep you informed about new Roblox Airport Tycoon codes as they become available. You should utilize these as quickly as possible since you never know when they'll run out! These Airport Tycoon codes were tested on the day this page was updated, so if you discover one that is no longer valid, please let us know by email in the contact section so we can update the article.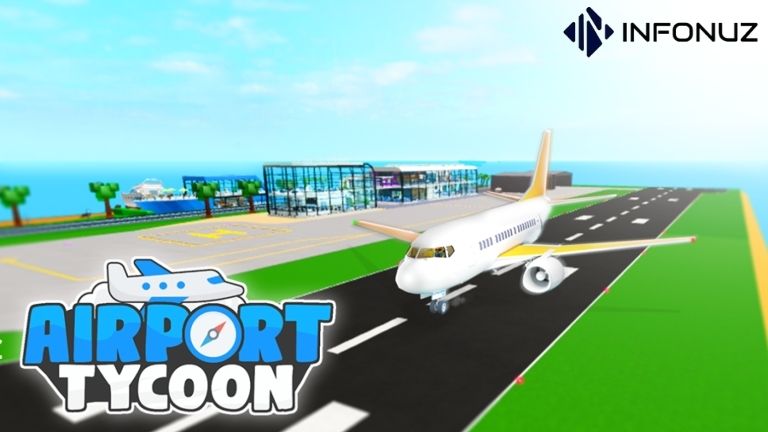 Roblox Airport Tycoon Codes (Working)
You can find all working Roblox Airport Tycoon Codes below. Hurry up to use these codes while they are working.
PRIZE – Get 200k cash
USA – Get 300k cash
FREEGEMS: Get Cash.
NEWCODE: Get Cash.
USA: Get Cash.
30K: Get 3,000 Gems.
300MIL: Get 300,000 Cash.
FREECASH: Get 200,000 Cash.
MILLION: Get 1,000,000 Cash.
NEWYEAR: Get 200,000 Cash.
XMAS: Get 300,000 Cash.
CHIP: Get 10,000 Cash.
BONUS: Get 200,000 Cash.
365KCASH: Get 365,000 Cash.
355KFREE: Get 355,000 Cash.
340KCASH: Get 340,000 Cash.
330KLIKES: Get 200,000 Cash.
HOTEL: Get 200,000 Cash.
320KLIKES: Get 320,000 Cash.
ATDISCORD: Get 50,000 Cash.
CASHPASS: Get 222,200 Cash.
WHALETUBE: Get 100,000 Cash.
BLIMP: Get 200,000 Cash.
200MIL: Get 200,000 Cash.
BLOXYCOLA: Get 100,000 Cash.
CLIFFHANGER: Get 100,000 Cash.
FIREBALL: Get 30,000 Cash.
FREEMOOLAH: Get 40,000 Cash.
INSTA: Get 50,000 Cash.
MEGAWHALE: Get 40,000 Cash.

OSCAR: Get 123,456 Cash.
JUNE: Get 300,000 Cash.
ROCKET: Get 50,000 Cash.
Airport Tycoon Roblox Codes (Expired)
The codes below are expired. So, you are no longer able to use them in the game.
2021: Get 202,100 Cash.
50MIL: Get 50,000 Cash.
UPDATE8: Get 200,000 Cash.
SUSHI: Get 20,000 Cash.
MERRYXMAS: Get 100,000 Cash.
HALLOW: Get 66,666 Cash.
BLUEWHALE: Get 40,000 Cash.
UPDATE5: Get 50,000 Cash.
TREAT: Get 33,333 Cash.
How to Use Roblox Airport Tycoon Codes
It's simple to use Roblox codes for free gifts in Airport Tycoon.
Simply open the Roblox Game and press M to access the menu.
Each functional code may be entered into a textbox in the codes section. (Or from Twitter logo)
To get your prize, press the Enter key on your keyboard.
If the code is not working, it means the code is expired.
That's all the information we can give about Airport Tycoon. I hope these codes will be useful to you in games. If you want, you can take a look at our ARTICLE1 and MAKALE2 articles and set sail for new games.